AAAH, Drinking Next page 4
It isn't often in the States that you go out drinking with your boss and colleagues.
The annual Holiday parties, an occasional celebration party, possibly an after
graduation party with your 100+ ninth grade students' parents.
But, normally, getting drunk and bonding with your boss aren't two things
that go together.
On those rare occasions when we Westerners find ourselves in the same room as
copious alcohol and fellow office mates (and parents), there are certain unwritten
rules that apply, no?
First off, obviously, don't get yourself smashing drunk, right? But if the drinking
is unavoidable, (say, if the beer is free and someone keeps refilling your glass)
you at least try to remember the rest of the rules.
Always act in a dignified and respectable manner.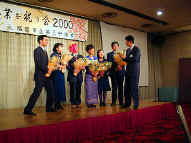 Always behave like the role model you are expected
to be as a teacher. These parents trust you with their
children's future.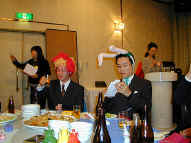 (And try not to stare love struck at your beer.)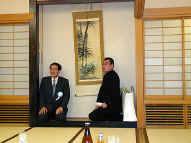 Don't pose in the picture box like the little dolls they
use for the girls' festival.
And don't tip the pictures crooked on purpose.
(Unless maybe you are the boss,
'cause who do you have to worry about?)
Try not to don aprons and kerchiefs with your colleagues and entertain the 200 parents present by dancing to Shingo Mama's hit J-pop song 'Oha'.
(sorry, I was too busy performing to take a picture.)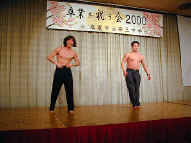 And, Oh! Never, never take off your clothes!

Don't tease your colleagues about how cold it
must be, 'cause it sure looks nipply, or shout things like,
'Woowoo, Hey sweet cheeks!'.
(At least stand proud, the human body is
beautiful, after all.)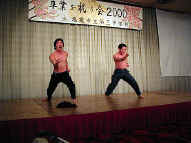 You'll really be embarrassed the
next day if in the middle of your show, everyone
finds out that isn't your real hair.