Matsushima Bay
The Japanese people are quite fond of this place, famous for its little islands
dotting the bay. Its one of the 'Three famous' views in Japan. Matsushima is
located on the other side of the same bay as Shiogama. It offers a nice natural
contrast to Shiogama's fishing harbor. Even if it is a little touristy. They have
souvenir shops in souvenir shops. But they do have a rather nice old monastery.
There are caves carved into the rock where the monks used to live. There is still
a monastery (see tree) and museum to visit, plus lovely secluded flower
gardens you can sneak into without paying. The dragon boat is one you can take
on a scenic trip from Shiogama and back.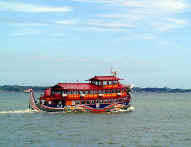 --------------------------------------------------------------
The following were taken the last week of march, 2001. I thought it
was finally warming up here, but it snowed all day! This was during my mom's
visit. It made for some nice photos, but we must have walked home in about
three inches of slushy snow. At least it wasn't crowded.
*Shiogama = Salt mine. Matsushima= Pine clad islands